Rims, Spokes and Hubs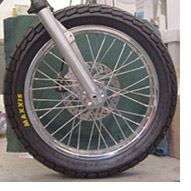 Wheel shown at left built by Banke Performance using polished Sun Rim, CRF 450 Honda hub (polished), Buchanan stainless spokes and fitted with Brembo/Banke rotor.
Complete wheel prices include Excel or Sun rim, stainless spokes and stainless nipples, and hub (with bearings and center spacer) for your specific application.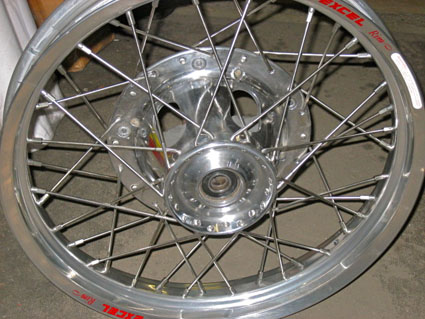 Excel, Sun and Borrani Rims
Call for Pricing
Sun Rims available in silver, gold, black and polished
Excel rims available in silver or black in standard or shouldered versions.
All Borrani rims are shouldered and polished.

Stainless Spokes and Nipple Sets
Call for pricing
Spoke nipples available in zinc plated steel, stainless or aluminum
Spoke polishing $65-$75/set

Wheel Building (Labor)
Most dirt track, motocross and supermoto $85.00
Hub drilling (for heavy-duty spokes) $10.00
Rim drilling (for heavy-duty spokes) $15.00
Hub polishing
Spool type hub $25 - $45.00
MX type front hubs (most) $45.00-$65.00
MX type rear $65.00 and up
Street type hubs Call for Pricing
Chain and Sprockets
Sprocket Specialists, Renthal, SunStar, and even OEM sprockets as well as DID, RK, Renthal, and Reynold chain are all available from Banke Performance. Please call with your specific application.