Handlebars
AFAM, Renthal, Pro-Taper and Vortex available. Available in flat track, MX and street bends.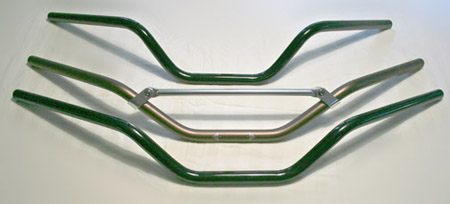 AFAM Flat Track $84.00 (titanium color)
Renthal $85 - $155.00
Pro-Taper $99.00
Black carbon steel flat track bars in #10 and #24 bends $36.00
Vortex MX and flat track bends (semi-gloss black) $68.00
AFAM and Carbon Steel Bars available in two bends #100 (also known as #10) and #240
(also known as #24)
#10 Bars have a 33.5" width, 5.6" pullback, 5.3" rise
#24 bars have a 34" width, 5.6 pullback, 6" rise
Grips
Banke Performance can supply grips from Scott, Pro Grip, Renthal, and Spider in many styles and colors.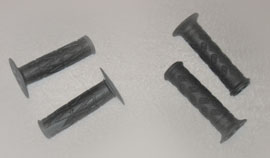 Pro grips, road style shown at right $8.00 - Up
Renthal $10.00 - $18.00
Spider Grips, multiple colors available, grey/black shown left $15.00 - up