Blast Rearsets

Now, a sensible alternative to the stock foot peg location, the Blast Rear Set kit from Banke Performance moves the rider's pegs back approximately 10". Unique design allows for alternate positioning of foot peg mounts. Comes with either dirt track style foot pegs or aluminum foot pegs.
Natural aluminum finish or powder coated black. Includes:
• Right and left side plates
• Foot peg assemblies
• Complete shifter and linkage
• All mounting hardware
Removes almost 7 pounds of unneeded bulk and eliminates the unsightly stock peg mounts and inferior foot pegs. Looks great with the Banke Pulley Cover. Allows easy access to primary case for servicing.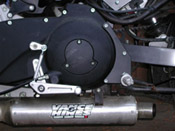 BLAST RSK-17-1 Rubber covered foot pegs. No longer in production. One offs available to customer spec $565.00

Note: Billet brake pedal shown above not included in kit
Footpeg Relocator Kit
Relocates M2 and S3 foot peg up 1- 1/4" and back 3/4". Accepts stock and after market foot pegs. Simple installation, requires no special tools. Fits M2 and S3, all years. Quit dragging your feet!
Use of Banke Shifter Kit part number SKA-10 is highly recommended with footpeg relocator. Please note that 2001+ models require Banke Shifter SKA-10.

Foot Peg Kits are set up for use with stock brake pedals. Please indicate if you have a Banke brake pedal.
FRK-01 '97 models
FRK-02 '98 models
FRK-07 '99+ models
$Call for price (built to order only)