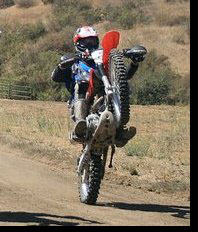 James Banke, started Banke Performance & Engineering in 1992 by machining and fabricating custom parts for local racers and riders. A graduate from Cal Poly with a degree in Industrial Technology, James had been racing vintage road races, motocross, and flat track in order to stay in touch with the needs of the various racing disciplines. As technology and time advanced, more effort was put into the development of products for both modern and vintage racing motorcycles.
In late '97, James acquired a Buell S-3. It was apparent that the basic motorcycle was very good, but there was room (okay, maybe a lot of room) for improvement. This led to an entire line of products for the Buell, starting with the oil filler/dipstick assembly, progressing on to the shifter assembly and continuing with multiple cosmetic items, as well as several new products for the Blast and Firebolt.
At this point, Banke Performance has offered products for XR100 Honda, flat track parts and accessories, wheels and brakes for vintage and modern bikes and currently is currently developing new street-tracker and cafe racer parts and hardware. Along the way, we have worked with CCM as an OEM designer and supplier, built several show winning motorcycles and have been a supplier for Zero electric motorcycles.
We will continue to offer only the finest quality machining welding and fabricating for your project motorcycle. We only offer first rate components of U.S., German or Japanese manufacture.
Thank you for your support.